Source: Hammer
From Bauhaus to The Sisters Of Mercy and Skeletal Family, these are the 10 goth tunes every metalhead should know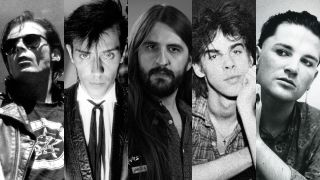 (Image credit: Martyn Goodacre/Getty Images/Fin Costello/Redferns/Paul Critchley/ David Corio/Redferns/Gie Knaeps/Getty Images)
Whether it's Nightwish and Within Temptation adopting the symphonic grandeur of bands like My Dying Bride and Therion or HIM embracing Type O Negative's doomed romanticism, gothic influences have been a mainstay of metal since the term 'gothic metal' first popped up in the early 90s.
30 years on, the balance between gothic and metal is more in flux than ever, the likes of Unto Others and Grave Pleasures taking the style back to its 80s roots. Bristolian newcomers Naut are the latest addition to this illustrious canon, their debut album Hunt (out February 24 via Season Of Mist) proudly pinning their post-punk and goth influences to their sleeves.
That in mind, we asked Naut guitarist Jack Welch to pick out ten 80s masterpieces of miserablism from the goth canon that that every metalhead should know. "As the warm rays of summer still remain a distant memory, it feels fitting to discuss a number of bands from the darkened, bastard offshoot of rock that is goth," Jack says eagerly.
Sisters of Mercy – Floorshow
"I'm sure that for many metalheads, this Leeds band needs little to no introduction as they are so synonymous with the goth movement (despite never referring to themselves as the 'g' word) but if you've ever been heckled walking down the road because you have long hair and wear black by someone who doesn't know the difference between thrash and goth, then the Sisters are partly to blame.
I first encountered the band when stumbling drunkenly into the goth room at my local rock club, aged around 14 – a part of the club patronised by people wearing rubber shouting "Hey now!" at me – and I never looked back. They're the undisputed kings, with as much black leather and mirrored aviators as Judas Priest, but with an electronic drum kit keeping the beat dancey and catchy as hell.
Pissed off, nocturnal, amphetamine-fueled – what's not to love? Floorshow is heavy on the bass and does Lemmy proud, a man whom Sisters frontman Andrew Eldritch has often spoken about as being an inspiration on the group."
Ghost Dance – Deeper Blue
A neat segway from the Sisters brings us nicely onto another Leeds band but this time one that is possibly less renowned outside of the scene. Born in the aftermath of the implosion of the First and Last and Always Sisters of Mercy line-up, Ghost Dance features Gary Marx, founding member and guitarist of Sisters alongside another well-known musician from the early 80's post-punk/goth scene: Anne-Marie Hurst.
Hurst was the vocalist in a great band that we'll come onto later called The Skeletal Family and her voice is up there with Siouxsie Sioux for me, in terms of the atmosphere and drama it brought to the iconic British post-punk sound. A Deeper Blue showcases this brilliantly as well as being a great example of Marx's guitar sound, which you can tell a mile off as the goth tone.
Pink Turns Blue – I Coldly Stare Out
We had the pleasure of supporting these underground post-punk legends at a show in Bristol a few years ago. I'd been desperate to see them live for a while, so sharing the stage was a bit of an honour for me. There's a heft of mood in their ironically stripped back tracks and you can see why they're viewed as being instrumental in creating the sound of cold wave music.
I Coldly Stare Out in particular sounds so bereft, a sparse drum beat repeats over and over and is cut through with a clinical bass line but it's so memorable. To me, Pink Turns Blue's often economical way of writing, where there's nothing superfluous at play, shows why people often feel post-punk has a cold edge.
Bauhaus – Double Dare
Another band that I'm sure even diehard metal fans will have heard of but maybe haven't deigned to listen to is Bauhaus, perhaps because of an aversion to the band's arguably overplayed, near 10-minute long dancefloor-filler Bela Lugosi's Dead.
Epic track-lengths aside (even though Maiden sing about a dead bird for 13-plus minutes), Bauhaus are one of the most inspirational bands out there, and are often given the accolade of being the 'godfathers of goth'. If you like dark music of any kind then these guys were instrumental in creating a blueprint for it.
In terms of what we want to achieve with Naut, the drama that these still bring to the live arena is staggering and inspirational. We took a band trip to Alexandra Palace semi-recently to witness them live and even with the combined age of Dracula, they really demonstrated how it's done. The tone and angular "anti-riffs" of guitarist Daniel Ash are something that I look to when writing the guitars for Naut.
Cortex – Mind of Darkness
So these are an odd one. Not really goth, but for me, heavy on the mood in a way that all the best post-punk is and this is a masterpiece of Scandinavian post-punk. I was first made aware of this Swedish underground group by my friends in the fantastic (sadly now defunct) metal band In Solitude and I fell in love instantly.
The singer on Cortex's Spinal Injuries album is Freddie Wadling, a somewhat cult hero across Sweden (in the vein of Tom Waits or Nick Cave) and someone I have loved looking into more deeply.
I had the absolute pleasure of seeing Wadling's final gig in Gothenburg before he died and maybe it was the insane flu I had at the time or perhaps it was the spells he was weaving on stage, but there was electricity in the room that night and it's this electricity that I think punctures every single track on Cortex's first album. Mind Of Darkness is just such a great way to open an album and tells you all you need to know – pure magic.
The Birthday Party – Wildworld
A brief mention of Nick Cave and we land at these oiks. Cave was the vocalist for this group, before going solo and taking guitarist Mick Harvey to make him a Bad Seed, and what a depraved-sounding mess they made. There's nothing else quite like it and if you consider yourself a metal fan who likes a challenging listen then I point you towards TBP.
Often, the guitars are like a heroin-addled blues player fumbling the notes while you dig your own grave to the screeches of a banshee reading something by Samuel Beckett. That's maybe a bit much, but it's great. Cave is unhinged and the whole thing is like trying to put your trousers on to go and buy milk after being up for a week on various chemicals: hard work.
Skeletal Family – Promised Land
Back to Anne-Marie Hurst and her great pipes. When you hear the intro to Skeletal Family's signature track Promised Land you're automatically transported to the smoke-filled dance floor of a sweaty goth club. It's so catchy, no build-up – just go.
The delay effects on the guitar are archetypal as well as the picking of the main riff. This is killer song-writing and the definition of a banger. It's also got a bit of weight to it, with the instruments nicely filled out and less thin than some post-punk tracks. This is definitely on the rockier end of the spectrum and the guitars on this song have inspired many moments on our debut album and my guitar writing in general.
Red Lorry Yellow Lorry – Talk about the Weather
There's something in the waters in Leeds, with many of the well-known bands labeled goth being born there and these guys are no exception. Red Lorry Yellow Lorry are among the many groups who consider themselves rock bands, not goth, but their influence on the scene and sound is undeniable.
These guys do bring something a bit different to it though, thanks to their droning guitars. To me, it sounds like an amalgamation of Siouxsie and the Banshees and Bauhaus mixed together with some of the tension of a band like Chrome, but it creates a sound uniquely theirs. Really underrated and a big influence on Naut using a larger than life drum machine.
Virgin Prunes – Pagan Lovesong
The premier 80's band from Dublin in my mind, and the people responsible for giving Paul David Hewson his snappier nickname of Bono, of course we come to the Virgin Prunes. Hearing these guys for the first time is much like that first lager at 12 years old which leaves you thinking 'what the hell was that, and how do people enjoy this?'
However, much like a crisp pint, you soon come to find yourself appreciating it with time. I recall hearing Erik from Watain talking about this band many years ago, demonstrating that their influence goes far beyond the genres of goth and post-punk and you can see their impact on bands from the black metal scene, as they were known for heavily theatrical, performance art-esque live shows.
The Sound – Winning
There's a sadness or melancholy often associated with post-punk and goth, perhaps as the lyrics tend to lean towards the desperate sides of the human condition, including loss and the seeming futility of life and love, who knows… but I would say this feeling definitely seeps through every pore of The Sound's music.
Perhaps I associate this band with a heavy feeling because their ill-fated vocalist committed suicide in the 90s, a vocalist whose performance on this album is criminally underrated and every bit as smooth and iconic as say, Ian Astbury of The Cult. For a track titled Winning it certainly feels less than chipper but it's a brilliant song, tense but glistening.